Dear Friends,
We hope that you and your families are all safe and well. We know all of you have had to make significant changes to your lives in the past few weeks.
In Uganda, our teams are also making adjustments. We just wanted to fill you in on all we are doing to support our children, our staff, and the wider community in the midst of the COVID-19 pandemic.
COVID-19 IN UGANDA
As of today, Uganda has only nine registered cases of COVID-19. It might not sound like a lot, but we have seen just how rapidly the virus can spread here in the UK, so we aren't taking any risks.
All schools have been closed for 30 days, public gatherings banned, and the country has shut its borders to all but humanitarian aid. As the restrictions come into force, we've seen demand for many products skyrocket and the price of very basic medicines and food has soared.
PROTECTING OUR CHILDREN
The Rwenjaza Hillside Nursery and Primary School have closed for at least 30 days, in line with government guidelines. We have also taken the decision to quarantine the Fountain of Peace children's village.
During this time, no visitors will be allowed to enter the village. This means all building work will pause and we won't be taking in any new babies. Children will only be allowed to leave for medical emergencies. We're also stocking up on food, medicine, sanitation materials, and petrol, to limit the number of excursions we have to make.
While the school and the children's village are in lockdown, we need to heighten security as there is a risk of vandalism and looting. To do this, we've hired a watchman and plan to install security lights around the school.
SUPPORTING OUR STAFF
These new restrictions are having a huge impact on our staff. Therefore, we've allowed any caregivers with their own families to return home while the country is in lockdown. All remaining staff will stay in our latest family home, which is completed but not yet inhabited.
Many of these wonderful individuals have made huge sacrifices to stay with us, so we'll be supporting them as best we can and covering their rent costs for the next month.
LIFE CONTINUES
While the restrictions are extensive we firmly believe that they will ensure the safety of our community. As far as the children are concerned, life will continue much as normal – with increased handwashing!
We are blessed to have extensive grounds with kitchen gardens, play equipment and lots of free space that the children can enjoy under the watchful eye of their carers.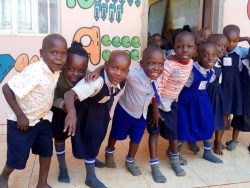 THANK YOU
Your support has been instrumental in enabling our team to take such swift and comprehensive action.
As we face great uncertainty, we really do value your ongoing prayers and financial support. The ongoing financial demands are very challenging but through God's grace and your kindness these continue to be met.
Above everything else, our faith remains steadfast. Our prayer is that you will also take great courage from these words from Psalm 46:10 "Be still, and know that I am God."
With our heartfelt thanks,
Andrew, Peace and the Fountain of Peace team