Skip to main content
Our Mission Statement
To provide hope and a secure future, in a Christian environment, for orphaned, abandoned, and other critically vulnerable children of Western Uganda.
Click here  to read our Statement of Faith.
Mothers Matter in Childbirth
A scheme devised to identify and address causes of avoidable maternal death amongst the poorest communities of Kyenjojo Region (Uganda), offering professional care, hope and optimism for a positive outcome to every pregnancy.
Click here  to read more about this project.
Uganda's Challenge
Infrastructure investment, stronger governance, regional integration, and a focus on social programmes to reduce inequality are all major challenges.
Poverty, high mortality rates, poor sanitation and improvement in education are urgent issues.
|
https://www.fountainofpeace.net
24 Sep 2023
On 17 September an earthquake caused significant damage to two classrooms at the FOP UG school (Rwenjaza Hillside) in the nursery section where the ceilings have collapsed. In addition to this, high winds have blown the roof off the farmhouse that is still under construction.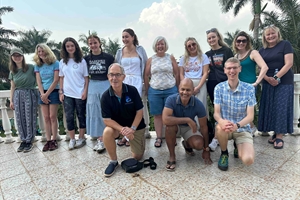 |
https://www.fountainofpeace.net
21 Aug 2023
In July/August 2023, we were delighted to take a team of 13 from the UK to spend two weeks at the Fountain of Peace project at Miranga village, Kyenjojo, Western Uganda.
|
https://www.fountainofpeace.net
21 Aug 2023
In July, Kate Sharma, one of the Fountain of Peace UK trustees completed her cycle ride from London to Paris over three days and raised an incredible £700 for the work of FOP. Thank you Kate!